Reiko Kaneko's New Look Revealed
It's been a while since I've written about British ceramicist Reiko Kaneko – in fact, I remember when the brand first launched back in 2007, when I was blogging as Wee Birdy in London.
It was Kaneko's quirky take on traditional white bone china that brought the brand to the attention of buyers from Liberty to Selfridges and beyond, with playful products such as simple white porcelain mugs with gold-stained drips, or imprinted with a gold-stamped lip marks on the rim.
Reiko Kaneko's new look was revealed at London Design Festival last month, with an exhibition, 'Exploring Glaze', at Elementary Store, along with a brand new website.
The company has also moved to Stoke-on-Trent and have increased space and facilities to experiment with glazes, colour bodies and decorations.
The exhibition featured a range of stark geometric fine bone china vases, designed to act as a canvas to showcase the reactive glazes.
Areas of pure white fine bone china left on all the designs highlight Kaneko's signature whiteness and creates a sharp contrast to the vibrantly coloured glazes.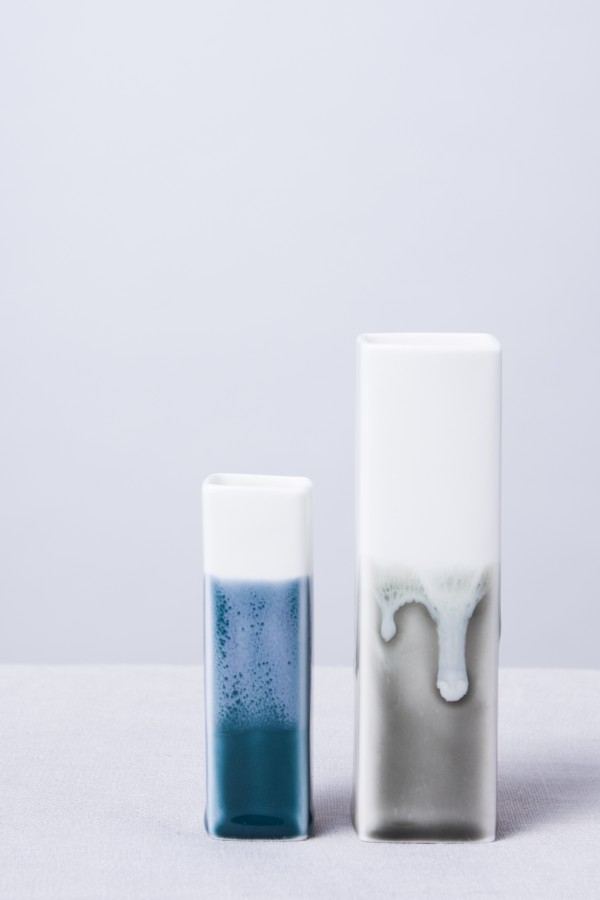 The Studio Glaze vases which featured in the exhibition last month are available to purchase online from Reiko Kaneko.
Click here to read more about our favourite ceramics finds.
All photography courtesy of Reiko Kaneko.